We know that you are busy and it can be a lot to keep track of all of the free resources available, so here is a page that you can bookmark and always come back to! You can also visit our blog here with even more resources for Auction Industry tools and information.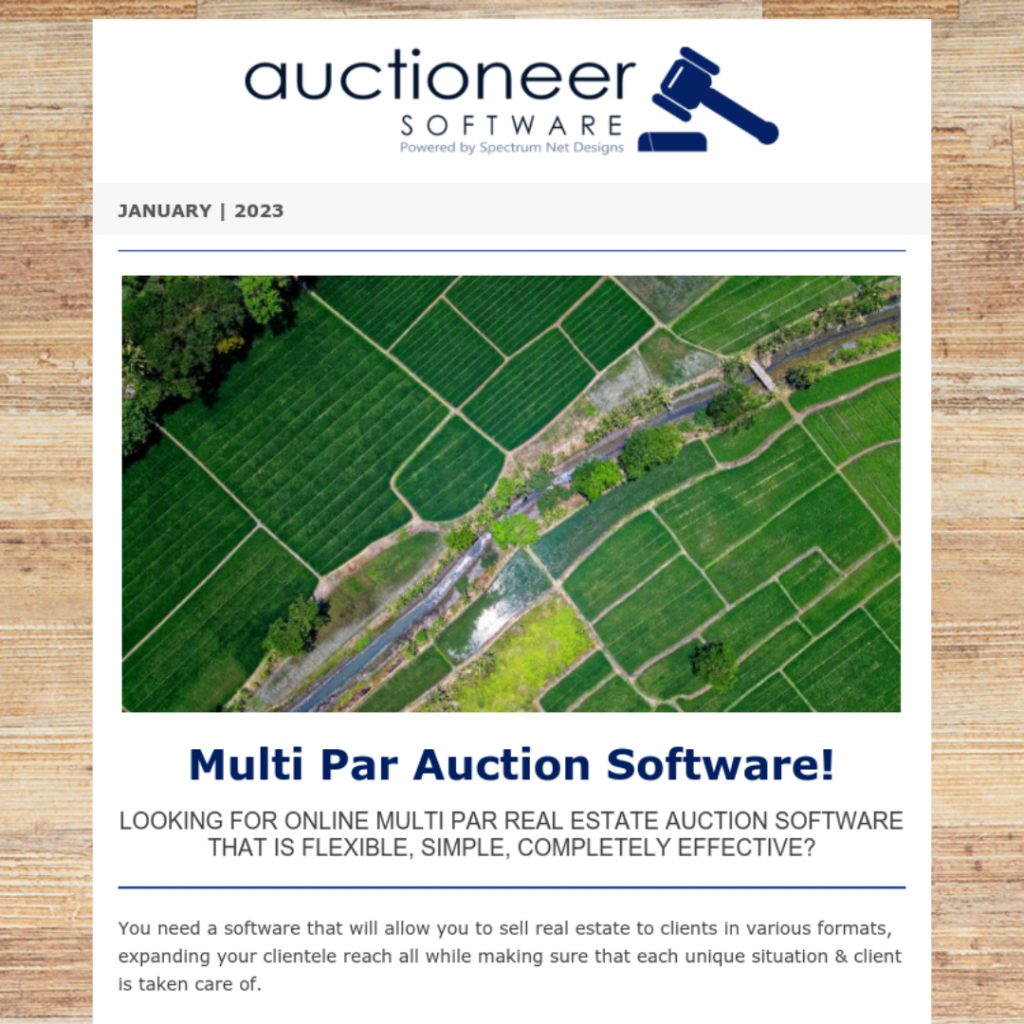 Discover our Live Auction Clerking Software!
Our software allows you simplicity, flexibility, and savings for your real estate auctions, not to mention we have options to customize your auctions to best fit your current and future bidders!
Discover our Tailored Online Auction Software!
It's 2023 who wants to go through the hassle of trying to figure out "do-it-yourself" online bidding software? Shouldn't there be an easier way to create and manage online auctions? Auctioneer Software is the online auction provider you can turn to for all of your software needs.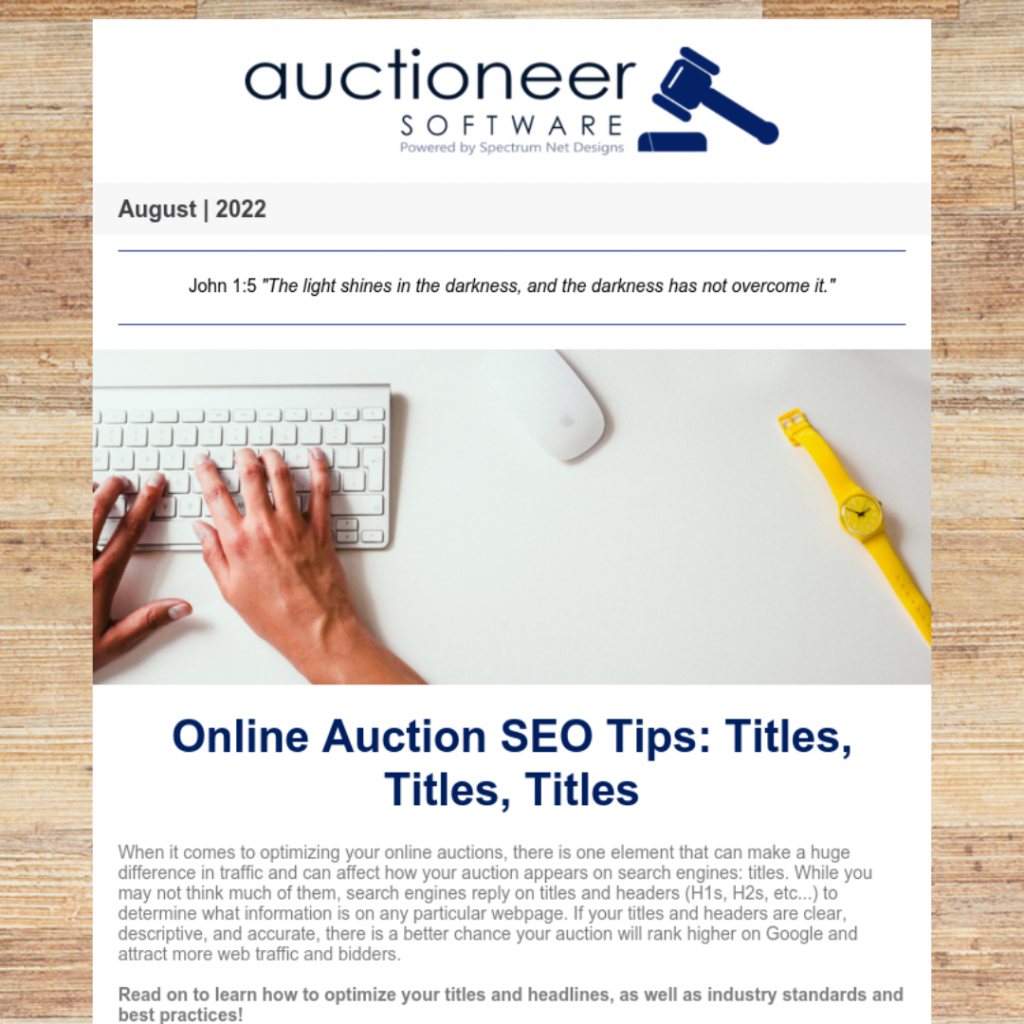 Online Auction SEO Tips: Titles, Titles, Titles
When it comes to optimizing your online auctions, there is one element that can make a huge difference in traffic and can affect how your auction appears on search engines: titles. While you may not think much of them, search engines reply on titles and headers (H1s, H2s, etc…) to determine what information is on any particular webpage.
Online Multi Par Real Estate Auction Software
Looking for online multi par real estate auction software that is flexible, simple,
and completely effective when it comes to your budget? You need a software that will allow you to sell real estate to clients in various formats, expanding your clientele reach all while making sure that each unique situation & client is taken care of.
Auction Marketing Strategy & Meet us at the Show!
With our proven auction marketing strategies, we can grab the attention of your auction audience and make a statement — making it more likely they will find AND stay on your site to bid. It's important to consider all the extra details behind the successful auction marketing strategies out there, because as amazing as your auctioneer is, without a marketing campaign that draws your bidders, your auction would go nowhere!
Auction Photography Tips for Online Auctions
What is the most important part of a lot listing in an online auction? Sure, the information section is important, and the contact information is too, but one of the most important things to have in your online listing is a good picture. Recently, online auctions have become more popular and are becoming more frequent. 
10 Reasons Why you Should be Advertising on Facebook!
Over the last 7 years Facebook has swept the nation. Facebook has become a great place for old friends to reconnect, for new friends to keep in touch, and for businesses to communicate with their customers. Not only does Facebook serve a wide variety of purposes, but it's always changing and always improving, making it a great platform to be a part of.
Exploring Facebook: Hidden Features you May Not Know About
Facebook is one of the most popular social media platforms. With over 1.8 billion users, it's a huge platform with enormous potential for getting your business out there! While you may think you already know and use every tool Facebook offers, they are constantly coming out with new features everyday and there may be some hidden ones you don't know about as well!
What is your SEO Backlink Strategy?
Quality backlinks remain a vital Google ranking factor- understand how to gain
them! When thinking about your search engine optimization strategy, it's a good idea to look at all then different tactics that make up a successful strategy- content, keywords, meta tags, and backlinks. While backlinks may sound straightforward, there are many ways to obtain them and they're essential for SEO.
Merry Christmas from Auctioneer Software!
This past year has flown by and Christmas is almost here! We wanted to take a moment to wish all of you a very Merry Christmas. We have so much to celebrate this year and each and every one of our wonderful customers are a part of that – we are so thankful for all of you who continue to trust us with
your Auction Software and continue to make us who we are. We look forward to what this new year will bring for your business and ours and we can't wait to continue to serve you for any of your auction needs. From our Auctioneer Software family to yours, Merry Christmas!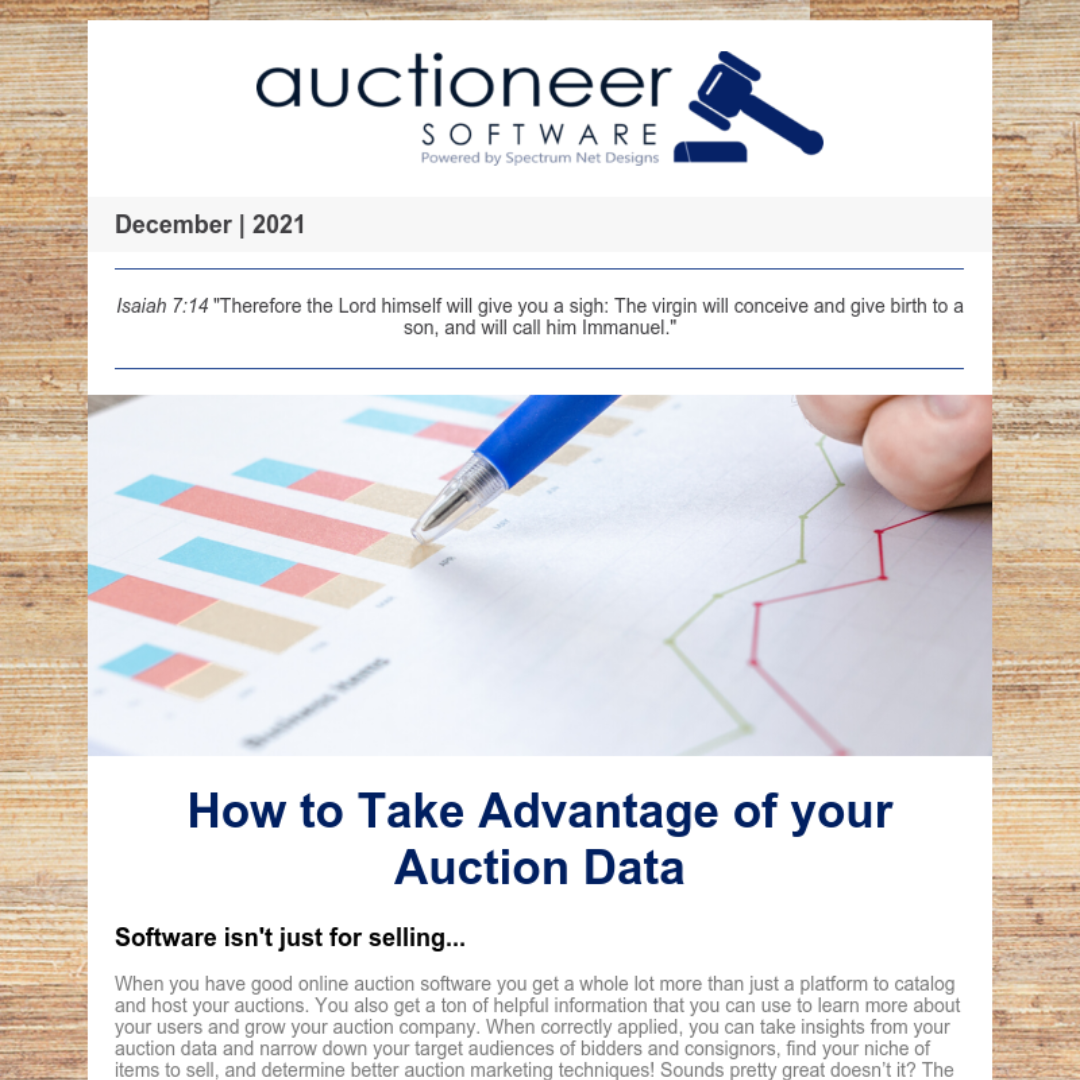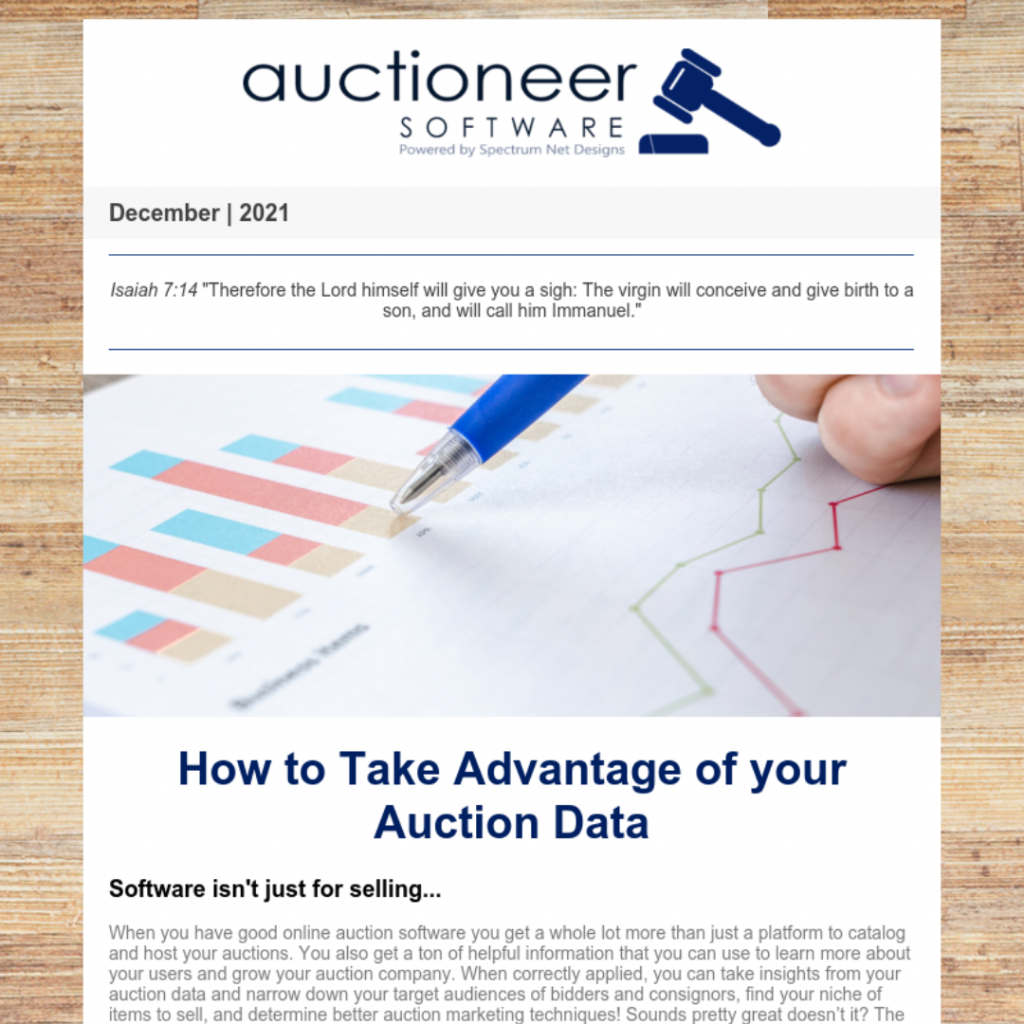 How to Take Advantage of your Auction Data
When you have good online auction software you get a whole lot more than just a platform to catalog and host your auctions. You also get a ton of helpful information that you can use to learn more about your users and grow your auction company. When correctly applied, you can take insights from your auction data and narrow down your target audiences of bidders and consignors, find your niche of items to sell, and determine better auction marketing techniques!
We Are Thankful For You!
This Thanksgiving, Auctioneer Software is taking a moment to reflect on all that we have been blessed with in 2021. While it has not been an easy year, it's important to step back and recognize how the Lord has provided. We have loved meeting and taking on new clients from around the world this year as well as learning more about the various types of auctions that each of you hold. We are thankful for all of you this Thanksgiving and hope that you are able to be with your loved ones, eat amazing food, and enjoy some much earned rest.
Social Media Tips for a Successful Live Auction
If you aren't already taking advantage of social media for your live auction marketing, you are missing out! Social media is an invaluable marketing tool, regardless if you are hosting a live or online auction. With so many people checking in on their various accounts everyday, it is important that you get your events in from of them. We've rounded up a few of our best live auction Facebook & Instagram social media tips for a successful live auction to help get you started!
Local vs National Marketing Campaigns – Which One is Best for You?
When it comes to your marketing strategy for your online auctions, there are a lot of questions to ask yourself and details to figure out. One of the things you should decide is if you want to do marketing on a local or a national level. While national works best for some auctions – like large equipment auctions, unique opportunities, or if you are willing to ship items to the winning bidders – but sometimes its best to stick close to home and only advertise locally. We're here to help you answer the tough question: Which is better – local vs national marketing campaigns?
The Advantages of Multi Par Real Estate Auctions!
Real estate auctions offer up so many advantages to buyers and sellers that they wouldn't receive in a traditional sale. From avoiding a lengthy negotiation process to the ease of selling, auctions are truly one of the best ways to sell property. However, did you know that a real estate auction can have even more benefits when the auction company makes it a multi parcel auction? Multi par real estate auctions have added benefits for the buyer, seller, AND the auction company, making them a no-brainer for larger real estate auctions.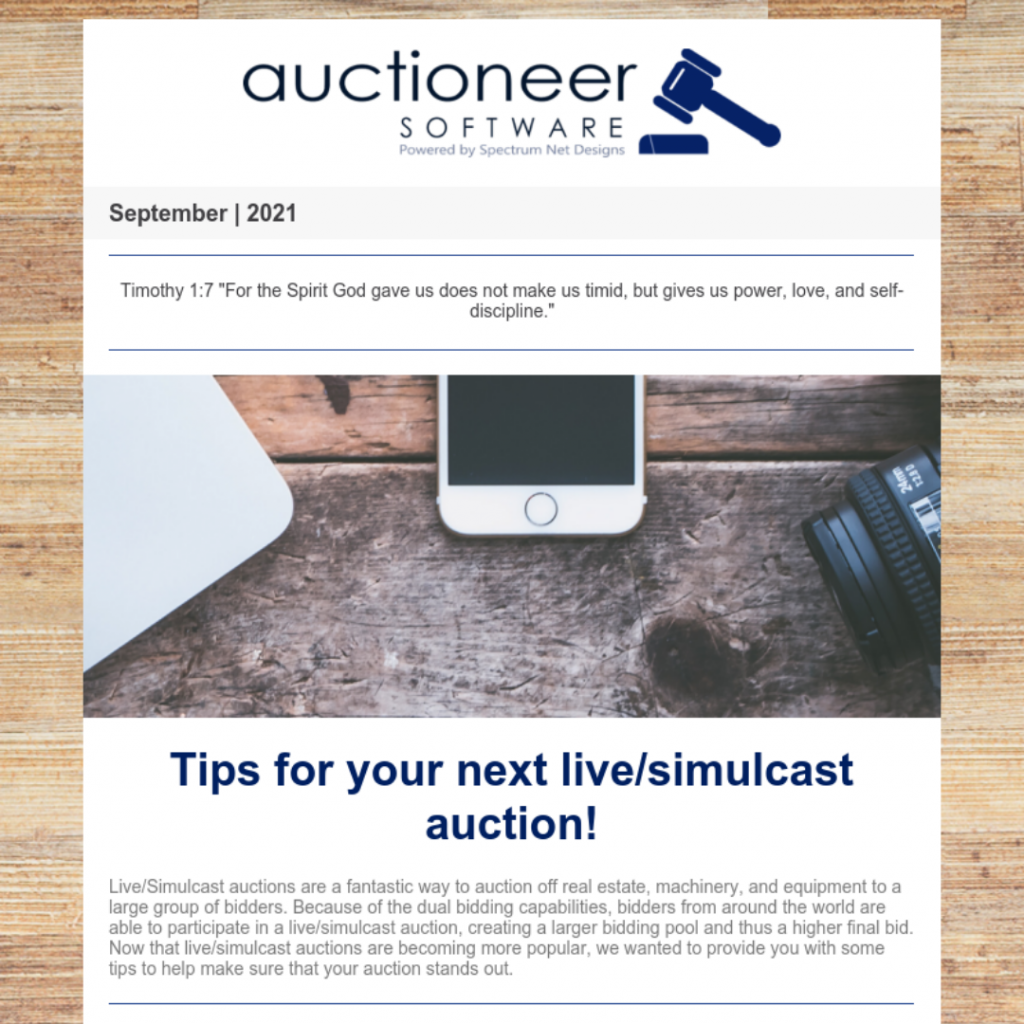 Tips for your next live/simulcast auction!
Live/Simulcast auctions are a fantastic way to auction off real estate, machinery, and equipment to a large group of bidders. Because of the dual bidding capabilities, bidders from around the world are
able to participate in a live/simulcast auction, creating a larger bidding pool and thus a higher final bid.
Now that live/simulcast auctions are becoming more popular, we wanted to provide you with some tips to help make sure that your auction stands out.
How to improve Google Search Rankings for your website!
Having a strong presence on the internet is important for ensuring current and potential customers alike find your website and auctions. If you don't have a strong website that is properly optimized, it will not appear in Google's Search Results. One of the most likely reasons that your website is not
appearing in search results is that it is not crawlable, and therefore cannot be indexed. To fix this issue, it is important to understand how Google crawls and indexes your website to determine
rankings on search engine results pages.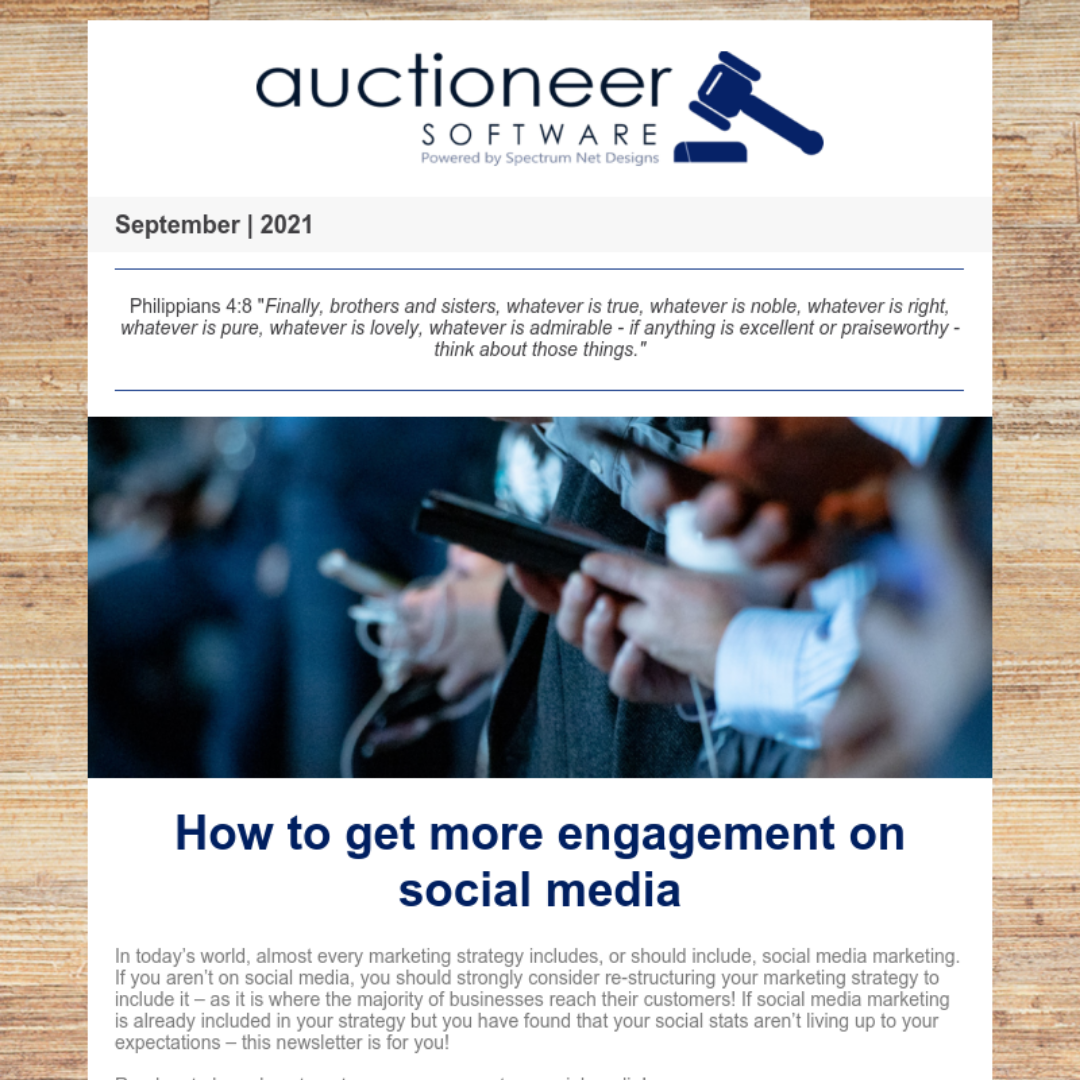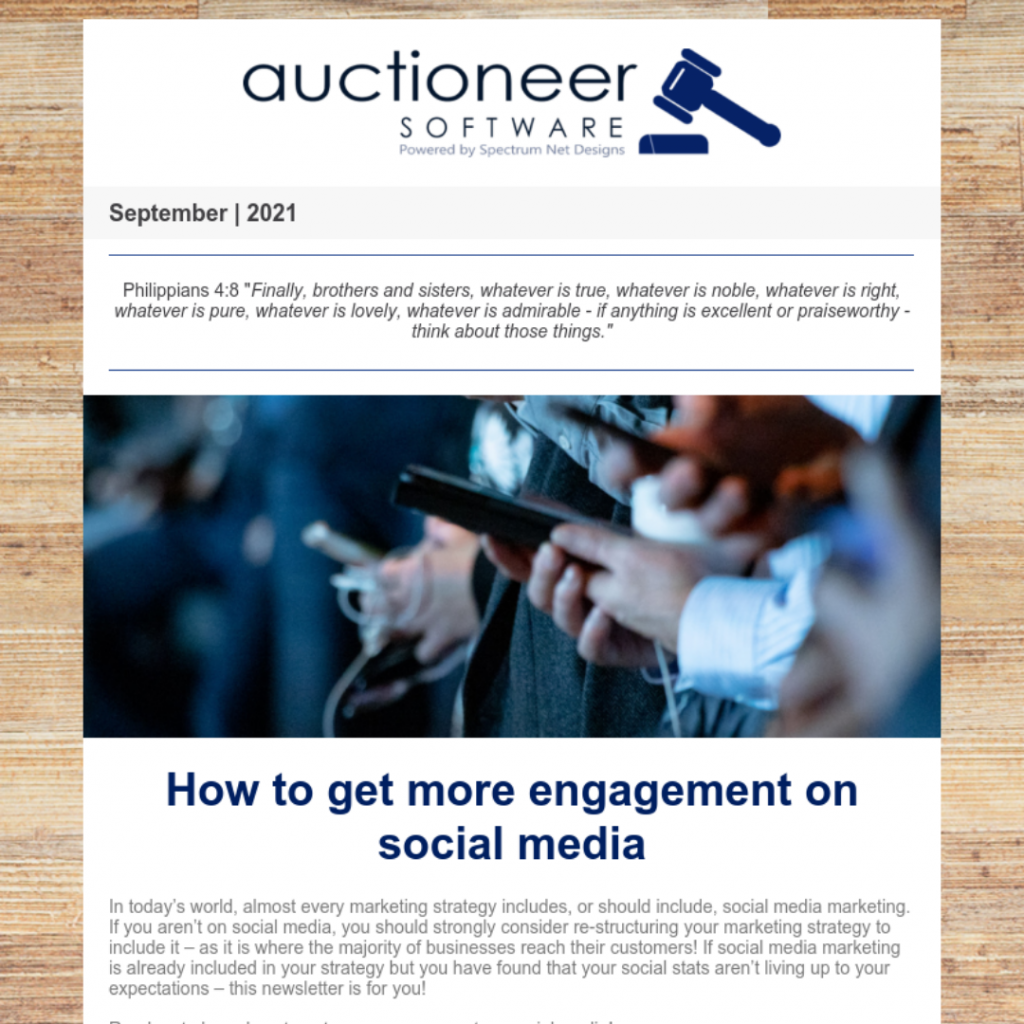 How to get more engagement on social media.
In today's world, almost every marketing strategy includes, or should include, social media marketing. If you aren't on social media, you should strongly consider re structuring your marketing strategy to include it – as it is where the majority of businesses reach their customers! If social media marketing is already included in your strategy but you have found that your social stats aren't living up to your expectations – this newsletter is for you!
How to optimize and enhance your online auction website. 
With the recent advancements in the online E-Commerce industry, the auction industry has evolved by eliminating the barriers of physical auctions. Now, anybody can bid for a product anywhere – without any limitation of geography, time, or even physical presence. Meaning? Your online auction website MUST be user friendly, fast, and accessible to capitalize on these recent advancements. 
Don't let the Marketplace utilize your hard-earned data!
Your data has never been safer with Auctioneer Software. We are not a marketplace; Instead, we provide our software and you get all the credit and ease without having to share any of your data. In a data driven world, it can be concerning when we put so much of our personal information out on the web. It seems that many companies and businesses don't address data and what steps they are taking to keep you safe, so that's exactly what we want to do.
The 2021 NAA Conference & Show is in 5 Days!
We are excited to be participating in the 72st annual National Auctioneers Association Conference &
Show – taking place July 13th-17th, 2021 in Minneapolis, MN! This year's Show will be a hybrid event, with both in-person and virtual, online events! We are excited to be able to attend the show in person again this year and learn about the future of the auction industry – both live and online! We will be hanging out at booths 201 and 300, so stop by and say hello!
Scheduling Appointments Now for Conference & Show In Minneapolis!
For this year's National Auctioneer Association Conference in Minneapolis,
we are excited to meet with everyone! We will have Kurt, Brandon, Shannan, and
other members of the team there to talk with you and explore how we can help your auctions needs.
Auctioneer Software's Auction Cataloging App
We have spent hours developing an auction cataloging app that works seamlessly with our auction catalog software. Not only does it give you easy access to our software wherever you are, it lets you work on-site to catalog items and gives you the ability to quickly add a last-minute lot before the auction begins.
The Only Auction Software You'll Ever Need!
People have been buying and selling items through auctions for hundreds of years. Now online auction sites are a normal part of everyday life. We offer you ready-to-go online auction software with features to help your auctions run smoothly and efficiently.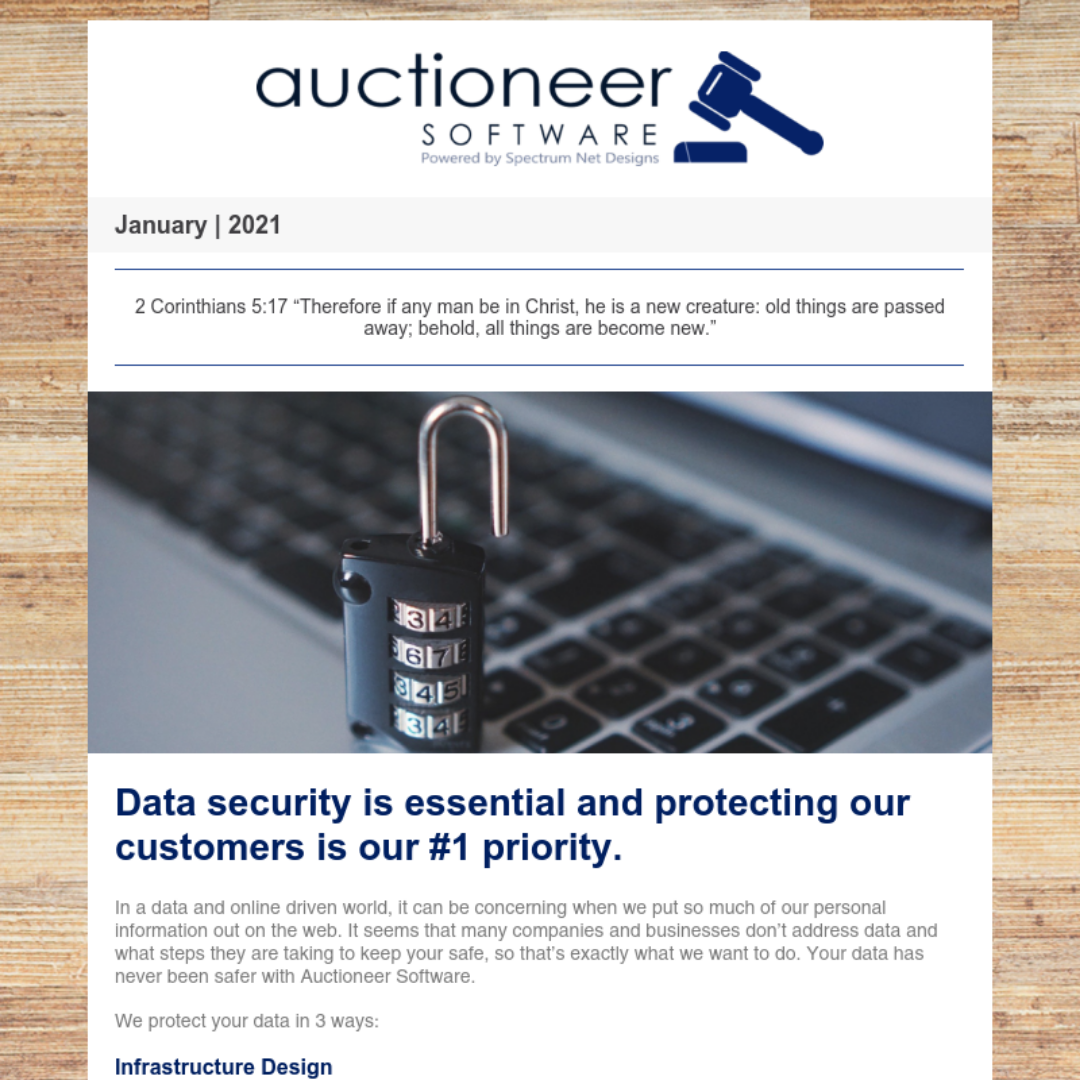 Data security is essential and protecting our customers is our #1 priority.
In a data and online driven world, it can be concerning when we put so much of our personal information out on the web. It seems that many companies and businesses don't address data and
what steps they are taking to keep your safe, so that's exactly what we want to do. Your data has never been safer with Auctioneer Software.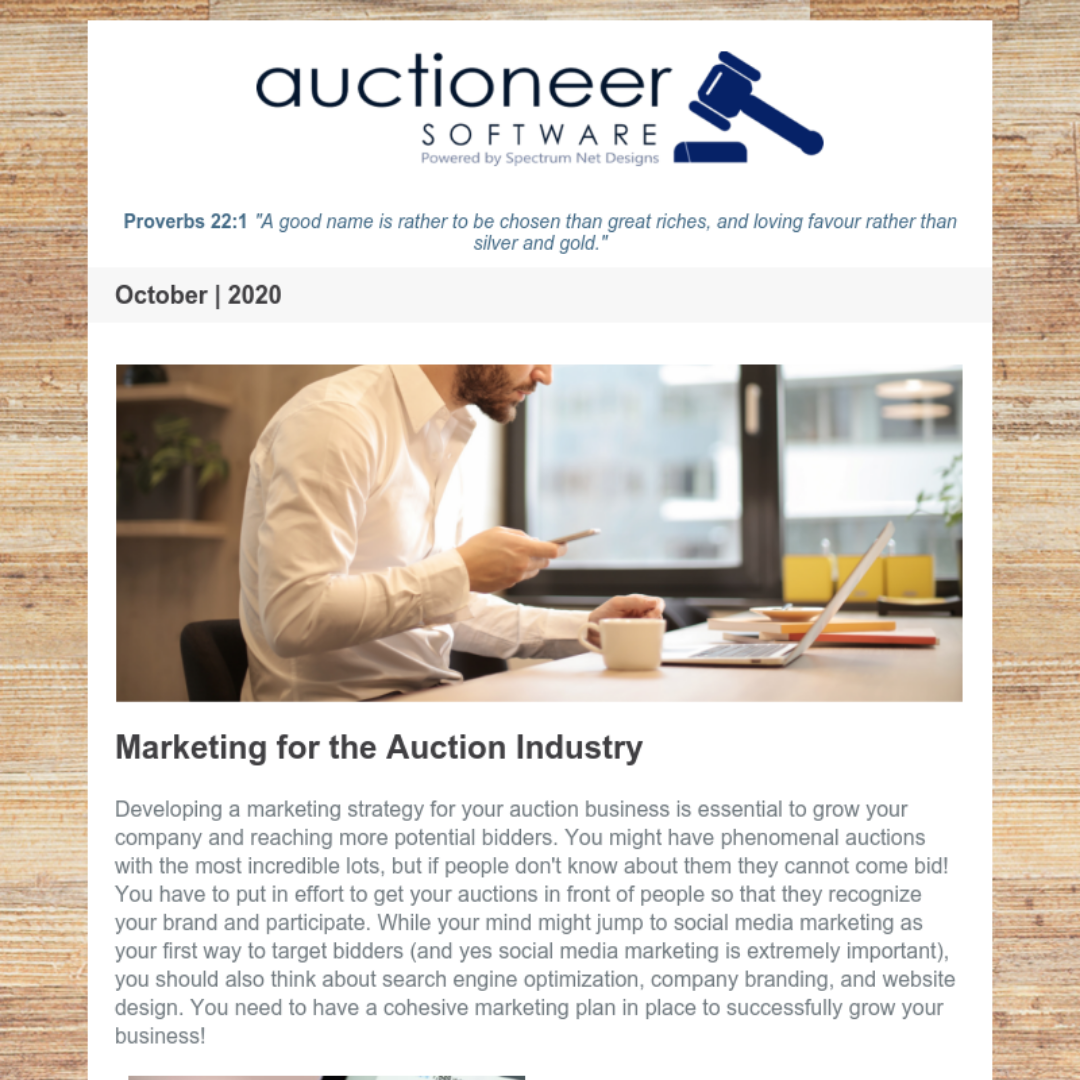 Marketing for the Auction Industry 
Developing a marketing strategy for your auction business is essential to grow your company and reaching more potential bidders. You might have phenomenal auctions with the most incredible lots, but if people don't know about them they cannot come bid!
Online Auction Software
We've developed the perfect platform for you to host your online auctions. Auctioneer Software's online auction software allows you to host as many auctions with as many lots as you want. Including automatic consignor statements and bulk lot importing, it's never been easier to manage your auctions!
Multi Parcel Real Estate Auction Software
Our Multi Parcel Real Estate Auction Software gives you the possibility to sell your property the way YOU want to. Our platform is flexible, effective, and best of all – simple to use! With Simulcast options available, you can be sure to reach the largest audience possible with your sale.
Clerking Software for your Live Auctions 
Are you ready for a Live Auction Clerking Software that streamlines your process and simplifies your auctions? Auctioneer Software has the solution. Our clerking software is especially designed to simplify your live auctions with a quick and easy way to print clerking sheets, load auction items, and more – all from your computer, iPad, or tablet!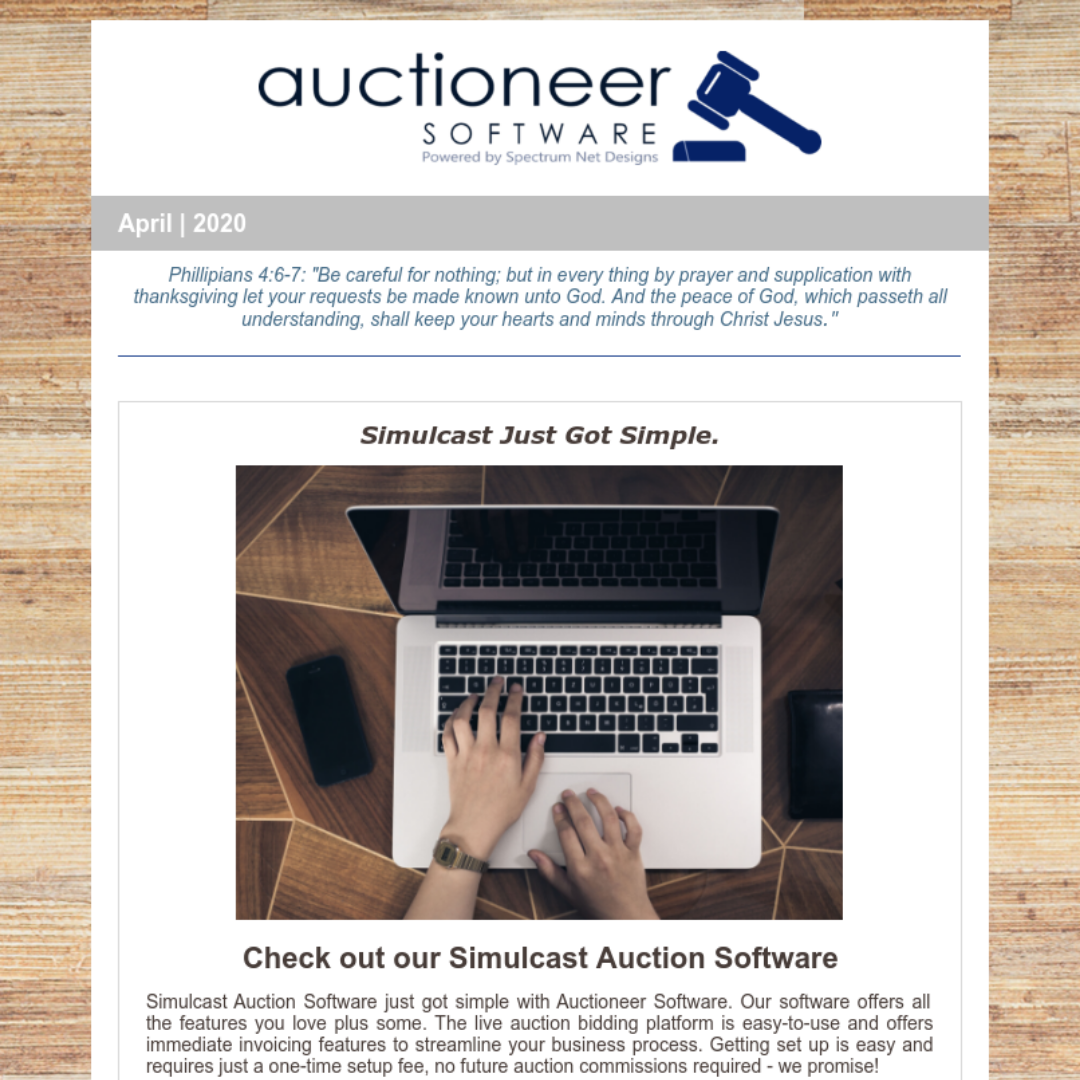 Check out our Simulcast Auction Software
Simulcast Auction Software just got simple with Auctioneer Software. Our software offers all the features you love plus some. The live auction bidding platform is easy-to-use and offers
immediate invoicing features to streamline your business process.
Check out our Auction Cataloging App
The only auction cataloging app that works seamlessly with our auction software. Not only does it give you easy access to our software wherever you are, it lets you work on-site to catalog items and gives you the ability to quickly add a last-minute lot before the auction begins.