The perfect extension of your auction website for bidders on the go!
We have spent hours developing a mobile bidding app that works seamlessly with your auction website. Not only does it give your bidders easy access to your auctions from wherever they are, it lets them receive real-time notifications right to their phone or mobile device as the auction progresses. This app can be included in our software package at an additional cost. 
While people have always had the option to bid from a browser on their mobile devices, it's not the ideal experience. Even if your site is properly optimized for mobile and is mobile responsive, it can still be frustrating for bidders to have to continually scroll or pinch and zoom to try and see the small lot picture. Instead of forcing bidders to either bid from a desktop or have a less-than-ideal experience on a mobile browser, give them a new method: a customized, personalized mobile bidding app built specifically for your company.
Compatible with Auctioneer Software 2.0
Available in the Apple and Google Play stores for use on IOS and Android
Completely personalized to your brand
Bidders receive real-time notifications about their bids
Reminders about auctions that end soon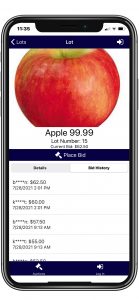 Interested? Want to know more?