The perfect extension of your auction website for bidders on the go!
Are you ready to take your auction website to the next level? We are thrilled to present our revolutionary mobile bidding app, designed to seamlessly enhance the auction experience for bidders on the go. With countless hours of dedicated development, we have created a remarkable app that perfectly complements your auction website.
Why settle for anything less when you can provide your bidders with easy access to your auctions, anytime and anywhere? Our application is a game-changer, offering real-time notifications directly to their phones or mobile devices as the auction unfolds.
But why choose our app over simply using a mobile browser? Constant scrolling, pinching, and zooming to view pictures can hinder the overall experience. Instead of compromising the bidding process or limiting your bidders to desktop-only participation, we offer a new and exciting solution: a customized, personalized mobile bidding app exclusively tailored to your company.
Let's explore some of the remarkable features our mobile bidding app brings to the table: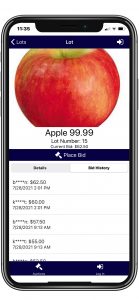 Interested? Want to know more?
Mobile Bidding App Features
Seamless Compatibility with Auctioneer Software 2.0: Our Mobile Bidding App is meticulously designed to seamlessly integrate with Auctioneer Software 2.0, ensuring a harmonious and glitch-free online auction experience. Bid with confidence, knowing that our app's technical prowess has your back.
iOS and Android Compatibility: Access the power of Mobile Bidding App on the go! Available for download on both the Apple App Store and Google Play Store, this app is tailored to cater to both iOS and Android users. Bid anytime, anywhere, regardless of your device preference.
Countdown Reminders: Don't miss out on the auctions that matter most! With our app's intuitive countdown reminders, you'll receive timely alerts about auctions that are about to end. Stay engaged and bid confidently until the last seconds.
Personalization is our forte! Our Mobile Bidding App allows you to infuse your brand's identity into every corner of the user interface. From colors to logos, we ensure that your brand's essence shines through, leaving a lasting impression on your bidders.
Real-Time Bid Notifications
Stay in the loop like never before. Our app delivers real-time notifications to bidders, keeping them informed about the status of their bids. No more guessing games – our notifications ensure you're always aware of your bidding journey's progress.
Simplified Bidding Process: Say goodbye to complex bidding procedures. Our app boasts an intuitive and user-friendly interface that simplifies the bidding process. Whether you're a seasoned bidder or new to the scene, our app ensures a seamless experience for everyone.
Secure and Confidential: Bid with peace of mind. Our Mobile Bidding App employs top-notch security measures to safeguard your personal information and bidding data. Your confidentiality is our priority.
Accessible Customer Support: Have questions? Need assistance? Our dedicated customer support team is just a tap away. We're committed to providing you with exceptional service and addressing any queries you may have.
Whether you're a passionate collector, an auction enthusiast, or a seller looking to offer the best to your bidders, our app is your ultimate companion. Embrace the power of mobile bidding – where convenience meets exhilaration!