Multi Parcel Real Estate Auction Software
Looking for online multi par real estate auction software that is flexible, simple, and completely effective when it comes to your budget? You need a software that will allow you to sell real estate to clients in various formats, expanding your clientele reach all while making sure that each unique situation & client is taken care of.
Our online multi par auction software is on a custom platform that will give you the ability to sell real estate 3 ways:
In its entirety as one lot
By individual parcels
In any combination of parcels
That's not all – this multi par real estate auction software will allow you to: 
Sell real estate for maximum dollars, so there's more in your pocket.
Seamlessly plug into your current website as another service offering for auctioneers.
Be completely tailored for you and your business model
Stand out from competition with an easy-to-use interface for the bidders.
Utilize audio and messaging features.
Software Features:
Online Only, Live, or Simulcast
Combination Bidding
Interactive Map
Low Latency Livestream
Per Acre & Total Dollar Bidding
Messaging System
Live Bidder Registration
Bidder Approval
Multiple Display Screens
Admin Clerking Screen
Simulcast Options Available!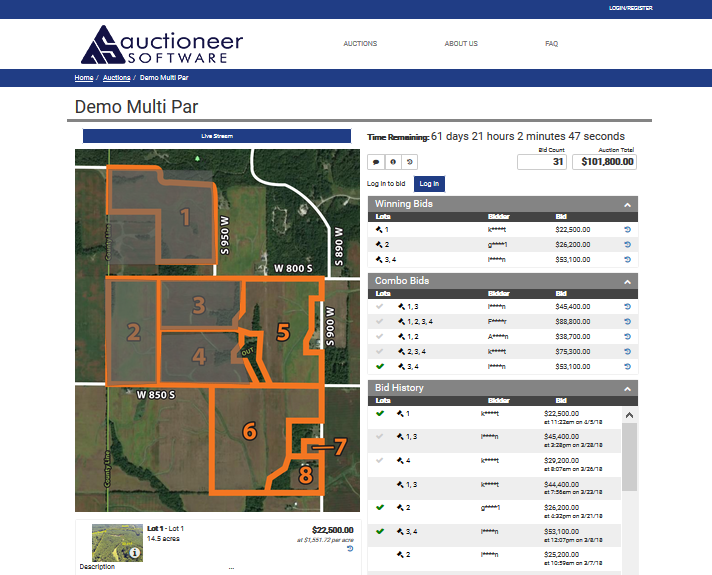 We understand that you will want to hold many of your multi parcel real estate auctions both in -person and online. Our software allows you to add a low latency livestream to your auctions so that you can reach bidders who won't be attending your auction in person.  Learn more about our simulcast options for your multi par auctions by clicking the button below! 
Multi Parcel
Auction Software
Auction Cataloging App Included!