Holiday Checklist for Local Listings
Tis' the season! Are you ready? Now that the holiday season is rolling in, it is important to keep that SEO holiday checklist in mind for local listings. Below, we have highlighted the main points to keep your SEO up-to-date, especially during the holiday season.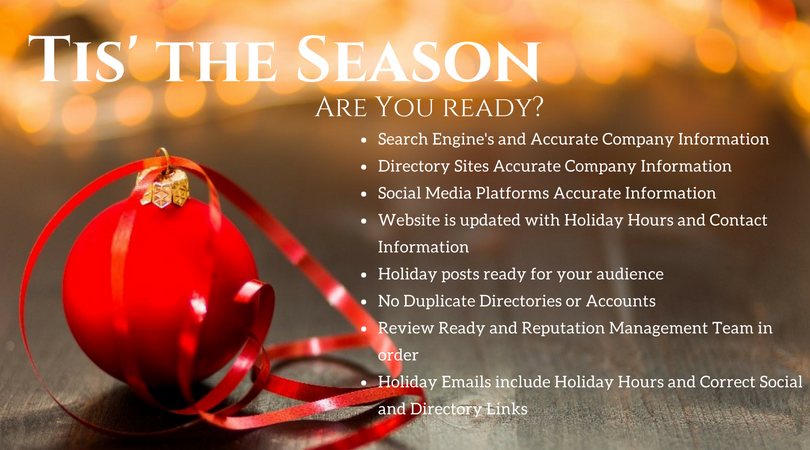 Directory Sites Accurate Company Information
Review Your Listings on all your Local Sites.  Here are a few you might be on:
Being up to date on these local sites will help local clients and future customers know your company's information and how to get a hold of you. You can also share a little about your company. During the holidays, be sure to keep all these updated!
Let us help you create an account on these local sites!
Accurate Company and Search Engine's Information
Review Your Search Engine listings for your local clients.  Here are a few you might be on. Don't forget to add those special hours on top of your regular hours. Keep these updated because they are the main traffic for lead conversions. If these main search engines are not kept updated, your chance to capture your focus audience might be missed.
Do you have one of these accounts and don't know how to recover them? Contact us and we can help you!
Social Media Platforms Accurate Information
Review your social media accounts and make sure they are up to date. Being up to date with social media means posting regularly and knowing the ins and outs of social media use and marketing. Keep up with your followers and those following you. Even a "like" here and there can keep your account up to date. Here are a few social media sites you might be on:
Need a social media account? Let us help you get started!
Website is updated with contact in

formation and 

holiday hours
It's easy to forget about your website as the holiday season nears, but it is crucial to keep it updated. Many companies have fluctuating hours during the holiday season, the hours changing weekly. Even if the hours look crazy, keeping them updated will lessen frustration from customers and clients.
Make sure you are covered across the whole spectrum of the website. Don't just focus on the "contact us" page, but check the footer, company information, internal landing pages, and more.
Contact us to update your account!
No Duplicate Directories or Accounts
Many people and companies forget either their password or what email they used. There can be a lot of confusion if one creates duplicate accounts. Questions like, What's my password? and Which email did I use? can be frustrating. Do you know how to reset your password? We can help along the process of recovering your account! Contact us today!
Holiday Posts ready for your audience
Don't skip out on posts just because it's the holidays! This is the perfect time to post, either on social media or a blog. Show clients and visitor's new products you are selling, information about your company, or even wish them happy holidays. Every post is important, even if it is something small. Audiences are most active during the holiday season, so this is the time to advance your posts.
Review Ready and Reputation Management Team in order
During the holiday season, there are many people who take off work and have other people covering for them. This includes a reputation management team. People can be frustrated during the holidays and might leave some negative reviews. Don't forget these in your holiday checklist.  Examples include:
Return Policy for stores
Prices
Parking
Hours
Having a team ready to give thoughtful, respectful responses is quite important during the holiday season. Have the responses ready, even if no one has complained yet. Don't leave reviews unattended. We strongly encourage for someone to take care of that, otherwise, frustration levels will rise.
Holiday Emails include holiday hours and correct social and directory links
Some companies have different holiday hours per person.  Are the correct hours and links in the signature? Review your email signature and make sure it is up to date. Some people in the holidays have an automatic reply with information about the holiday hours. If this is something you're interested in, make sure to include forward links to either a website or social media.
This holiday checklist will ease the frustration of customers and help keep customer loyalty.
Make sure to cover all bases to have the best local SEO possible. If you need any help, contact us today and we will love to give you a hand!