We had an opportunity to visit the Shipshewana livestock auction yesterday, they are using our software and we thought it would be a great opportunity to go down there and see what they are doing with our software. Our clients are important to us & we value their business & success, as a business, Auctioneer Software wants to be familiar with the many varying industries that we provide software for; by doing so we can only improve in making software that meets your needs & is a product worth using. We made sure to take some pictures of our trip so that we can share with you the real, hard working people that use our software daily.
Make sure that you are using an Auction Software that works as hard as you do. Allow Auctioneer Software to provide you with features & benefits that you might be missing with your current software! Call us today for a free 30 day trial!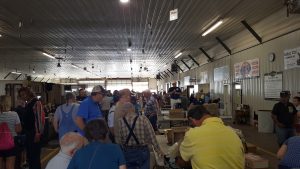 ---
Interested in Online Auction Software for Your Business?
Contact Us today for a free 30 day trial!